5 Reasons Why "Chasing Amy" is a Great Movie for People Who Wait
July 1st, 2011 by
Mike
I was very insecure about girlfriends' pasts when I wrote Chasing Amy.

-Kevin Smith (writer/director)
Chasing Amy is the third film by writer/director Kevin Smith (aka Silent Bob). If you haven't already seen it, it's definitely worth a watch whether you're waiting till marriage or not. But if you are waiting till marriage, then Chasing Amy contains some special messages that you'll be able to appreciate much more than the average moviegoer. Chasing Amy is about coming to terms with a partner's sexual history, and us virgins have that problem much more frequently than non-waiters.
Note: As of this writing, Chasing Amy is available on Netflix Instant, so go watch it!
1. The fantasy of finding a virgin, even at a late age.
If you're waiting till marriage to have sex, you probably fantasize a lot about the notion of finding and falling in love with somebody who is also a virgin. It would be easy and perfect, you think. No past to worry about, a much more intimate sense of ownership, a feeling that you earned something special, and lots of great sex that only you would have with them.
In Chasing Amy, Holden (Ben Affleck) first thinks that Alyssa has always been a lesbian, and has never been with a man. Alyssa's virginity is placed in a positive light, and Holden's sense of pride, accomplishment, and enjoyment at having been "her first and only" is palpable. Where as most movies don't even mention virginity except as a negative stigma, Chasing Amy makes it a central topic and shows its more desirable qualities.
2. The happiness of a perfect relationship
We spend so much of our lives trying to bridge the gap between our own interests and the interests of those we date. Everybody fantasizes about meeting somebody who they have everything in common with, but such matches are rarely portrayed in movies. In most movies, the central couple consists of "two attractive people who like eachother because they are both so attractive."
In Chasing Amy, Holden and Alyssa meet at a Comicon panel. They are both comic book artists, they both have very similar geeky personalities, and they get along famously. So famously, in fact, that Alyssa even turns straight for him (she is gay in the beginning of the movie). And they are about to live happily ever after.
3. The pain of finding out about a sexual past
Eventually the main character, Holden (Ben Affleck), discovers that Alyssa has some extremely promiscuous sexual events hidden in her past. The kind of ego-shattering, heartbreaking discovery that can forever poison how you view someone.
As somebody who is waiting till marriage and has dated others with far more liberal sexual histories than yourself, you can probably relate to this situation well, as you've probably been through a version of it several times. You meet someone, you try to convince yourself that maybe their sexual history won't be that bad, and then you find out the gritty details and it wrecks you a little (or a lot).
To my knowledge, no filmmaker has portrayed the emotional turmoil of encountering a bad sexual history as accurately as Kevin Smith has in Chasing Amy. Really, the whole moral message of the story revolves around the emotions that Holden goes through after he finds out about Alyssa's past.
4. Silent Bob's poignant speech
If you don't already know about Jay and Silent Bob: Silent Bob is a recurring character (played by writer Kevin Smith himself) that appears in many of Kevin Smith's movies alongside his trash-talking sidekick Jay (played by Jason Mewes). The general dynamic of Jay and Silent Bob is that Jay constantly talks yet says nothing of merit, while Silent Bob stays…well…silent. Typically, there will be only one or two scenes in each Kevin Smith movie where Silent Bob actually speaks, and they're always very meaningful, relevant, and intelligent words.
In Chasing Amy, the main character Holden (Ben Affleck) meets Jay and Silent Bob for lunch and ends up going on a rant about his current troubles with Alyssa and her sexual past. Suddenly, Silent Bob breaks his silence with a speech that saves the day. This speech is required watching if you've ever struggled with a partner's sexual past.
Here's the video clip…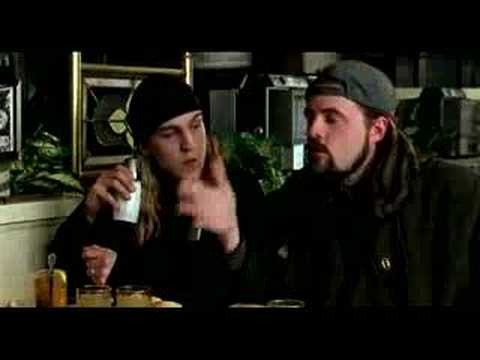 And here's the full text of Silent Bob's speech…
I went through something like what you're talking aobut a coule of years ago with this chick named Amy. So there's me and Amy, and we're all inseparable right, just big time in love. Then four months down the road the idiot gear kicks in and I ask about the ex boyfriend…which, as we all know is a really dumb move. You know how it is: You don't want to know, but you just have to know…stupid guy bullshit.

So anyway she starts telling me about him. How they fell in love, and how they went out for a couple years, and how they lived together, her mother likes me better, blah blah blah. And I'm OK. But then she drops the bomb on me, and the bomb is this: It seems that a couple of times, while they were going out, he brought some people to bed with them.

This just blows my mind. I was raised catholic for God's sake. So I'm totally weirded out by this right. And I just start blasting her. Like I don't know what I'm feeling and I figure the best way is by calling her "slut" and tell her she was used. I'm out for blood. I really want to hurt this girl. I'm like "What the fuck is your problem?!" and she's just calmly trying to tell me like "It was that time…it was that place." She doesn't think she should apologize because she doesn't think she's done anything wrong.

I'm like "Oh really?" and that's when I look her straight in the eye and tell her "It's over." I walk.

It was a mistake. I wasn't disgusted with her; I was afraid. Now at that moment I felt small. Like I'd lacked experience, like I'd never be on her level, like I'd never be enough for her or something like that.

But what I did not get is that she didn't care. She wasn't looking for that guy anymore. She was looking for me. But by the time I figured this all out it was too late. She moved on. And all I had to show for it is some foolish pride that then gave way to regret. She was the girl. I know that now. But, I pushed her away.

So I've spent every day since then chasing Amy…so to speak.
5. Realistic consequences
If you have ever confronted a partner about their sexual past, you probably know how horribly wrong it can go. In Chasing Amy, Holden (Ben Affleck) confronts his girlfriend Alyssa about her past, says all the stupid things that you will say if you let your emotions rule you, and what happens next is (in my experience) exactly what happens in real life: His pain makes him push the issue too far, until he crosses the line and feels guilty…but it's too late.
Alyssa, for her part, tries to convince Holden that her past doesn't matter and that she loves him now. Here's a sample line…
Me letting you think I was a virgin seemed to make you feel special in a way that me telling you over and over again [that I loved you] just wouldn't get across.
Let the ending of Chasing Amy be a warning to you before you set out to rip apart a partner for their sexual history, because it presents a brilliantly accurate test-case for how that situation can play out.
Epilogue: How did Kevin Smith know that pain so well?
After seeing Chasing Amy, I began to wonder whether or not Kevin Smith had waited until marriage to have sex, because he portrayed a struggle that I thought was largely unique to virgins. And the way it did it was so uncannily, deeply accurate and knowing. I figured that nobody could have written Chasing Amy without knowing that kind of pain intimately themselves.
So I've been tearing through every Kevin Smith interview, outtake, and lecture I can get my hands on trying to get to the bottom of his own sexual history. So far I've confirmed that he did not wait until marriage to have sex, but I still have a running theory that his wife was his first and only, mainly because I swear I remember him saying that a few years ago (but can't remember where). If I find out that's the case, I'll do a full article on him for the celebrities section.
Either way, Kevin Smith has inadvertently made a wonderful movie for all us waiting-till-marriage types in Chasing Amy (intentional or no), and you should definitely give it a watch.
Want more? Read this great article, written by Kevin Smith himself, on the story behind Chasing Amy.
32 Responses to "5 Reasons Why "Chasing Amy" is a Great Movie for People Who Wait"