Doritos Girl Ali Landry Waited Until Marriage (for her second attempt)
April 15th, 2012 by
WTM.org Community
I was just treading lightly, and did not want to make any mistakes in this relationship, so we abstained from having sex until we got married.
Best known as simply "The Doritos Girl," former Miss USA Ali Landry is on the short list of top sex symbols for an entire generation. After her engagement to Save By The Bell's Mario Lopez ended painfully (he cheated on her before the wedding), Ali did some soul searching and found a new love in Mexican Director Alejandro Monteverde. Feeling extra cautious, Ali made Alejandro wait, but it worked out and now they're happily married with two beautiful children.
Video: Ali Landry Talks Divorce, Second Marriage, and Abstincence
Quotes on her Second Marriage to Alejandro Monteverde
Because of the situation I was in before, I was just treading lightly, and did not want to make any mistakes in this relationship, we abstained from having sex until we got married.
He was the person I was meant to be with.
Before I met my husband I was in a relationship for six years. There was infidelity and it really caused me to re-evaluate and change my entire life. That was the moment I began seeking out God and needed Him to help me put one foot in front of the other.
Quotes on her Failed First Marriage to Mario Lopez
I had heard something right before the wedding. He swore that it was not true, but I had that feeling in my gut. All of my family was flying in — it was a destination wedding — and I really should have put the brakes on it at that point, but I was afraid.
Right after the honeymoon I started getting phone calls from these girls. I confronted him and he still — to this day — denied it and never apologized. It was horrible.
I was so side-swiped by the whole thing … I never really got angry. I discovered a lot about myself and I'm a better woman because of it.
He cheated on me. It caused me to reevaluate everything in my life.
I was so sideswiped by the whole thing… the only place I got answers was I read the Bible like every single day.
Look, it was a really tough situation — a really tough time in my life — but I am very proud of the way I handled it. It really changed my life in the most positive way, and that's so nice to come out of something so terrible and be able to say that. Now I have a wonderful husband and a great family so now I can actually speak about it and not put any blame on the other person, but as someone who went through something terrible and handled it a certain way and I learned from it. I grew.
No, yeah he was! But at the end of the day, it's not about him, you know what I'm saying? He did suck, it still does suck. It hurt a lot and he never apologized. That's hurtful, when someone you cared about never stepped up to the plate to at least say, "I'm so sorry I did that to you." But with that said, I had to be even stronger and figure out a way to move forward on my own.
Oh, I say it every single day. Like, "Thank God I'm not with that person. Thank God!" I'm grateful that happened, really!
That (infidelity) was probably the most dramatic thing to happen to me in my life, and granted it was absolutely horrible. And now I have a great husband and children.
So, I'm very grateful that happened because I would not be where I am now.
Ali Landry: Mini Biography
Born Ali Germaine Landry on the 21st of July 1973 in Breaux Bridge, Louisiana, USA to parents Gene and Renella who are of Cajun French origin.
Teenage Years: Captain of her high school cheerleading squad.
Age 17: Crowned Miss Louisiana Teen USA. Semi-finalist at Miss Teen USA where she placed first in the preliminary swimsuit and evening gown competitions. She ranked seventh in overall final competition
Age 18: Graduates from Cecelia High School in Cecelia, Louisiana in 1991. Attends University of Louisiana, majors in mass communication.
Age 22: Wins 1996 Miss Louisiana USA title and goes on to win the Miss USA crown at the national-level Miss USA 1996. Also wins Miss Photogenic secondary award at Miss USA 1996. Competed in the 1996 Miss Universe pageant held in Las Vegas.
Age 24: Casted as Kenzie in the short-lived soap Sunset Beach
Age 25: Gained instant worldwide fame as "the Doritos Girl", when she was featured in a commercial for Frito Lay during the 1998 Super Bowl telecast.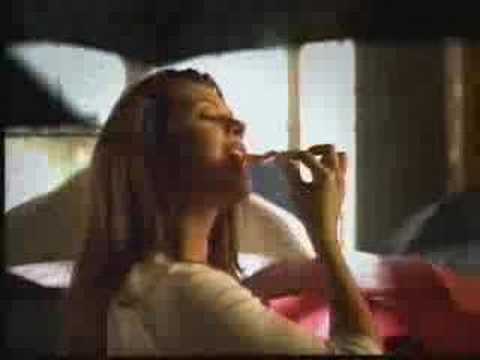 Named as one of People Magazine's "50 Most Beautiful". Meets actor Mario Lopez when he emcees the Miss Teen USA 1998 pageant where she was a commentator. Casted as Amur in the daytime soap opera The Bold And The Beautiful. Lands a recurring role on the syndicated series Pensacola: Wings of Gold
Age 26-28: Appears in Malcolm and Eddie and Felicity.
Age 29: Lands a role in the movie Outta Time and hosted the second season of the hidden-camera series Spy TV.
Age 30: Becomes engaged to Mario Lopez during the summer of 2003. Marries Mario López on 24 April 2004 in a Roman Catholic ceremony in front of 50 guests at the exclusive Las Alamandas resort outside Puerto Vallarta, Mexico. Lands role as regular cast member on UPN sitcom Eve.
Annuls her marriage to Mario Lopez on May 12th, 2004 after finding out that he cheated on her few days before their wedding.
Distraught, she begins attending a theology class her her local church, where she meets her future husband, Mexican Director Alejandro Monteverde.
Age 31: Becomes engaged to Mexican director Alejandro Monteverde over Memorial Day 2005 in Mexico.
Age 32: Marries Alejandro Monteverde on April 8, 2006 in Miguel de Allende, Mexico.
Age 33: Co-starrs in the feature film Bella which won the Toronto Film Festival Award in 2006. Gave birth to her first child at age 33, a daughter Estela Ines Monteverde on July 12, 2007.
Age 36: Launches lifestyle line Belle Parish in 2009.
Age 38: Gives birth to second child (a son) Marcelo Alejandro Monteverde. Partners with Safe Kids USA, Buick, and BRITAX (maker of car seats & strollers) to help educate parents about both the importance of car seats and the best practices for car seat use.
Age 39: Becomes the new face and spokesmodel of Palmer's Cocoa Butter Formula, following in the footsteps of celeb moms Samantha Harris and Laila Ali who've previously posed for Palmer's.
Interesting Facts about Ali Landry
Ever since her Doritos ad (aired during Super Bowl 1998), she has had male fans randomly toss Doritos bags like footballs to her.
She trained as a dancer in jazz, tap, and ballet for 15 years. She also enjoys kickboxing and gymnastics.
In an interview in Breaux Bridge in April '97, Ali confirmed that she was offered a job by billionaire Donald Trump and that she turned it down. Trump reportedly wanted her to work for him helping to run the Miss Universe Pageant on a full-time basis. But she says she viewed this simply as a job – albeit a glamorous one – that would have gotten her off of the career path she plans to take.
Member of Kappa Delta Sorority.
Measurements are 36C-24-34.
She has been listed as one of FHM magazine's 100 Sexiest Women in the World numerous times
References:
5 Responses to "Doritos Girl Ali Landry Waited Until Marriage (for her second attempt)"