Help Support Rebecca St. James' New Movie!
June 3rd, 2013 by
WTM.org Community
Official Website:

Facebook:

Twitter:
Grammy Award-winning singer and successful waiter-till-marriage Rebecca St. James is staring in a new romantic comedy, and she needs your help to get wide distribution. If lots of us pre-order tickets, she'll be able to show her movie in more theaters. Plus you get free bonus gifts for pre-ordering, and the tickets are cheaper when you pre-order them.
Watch the trailer…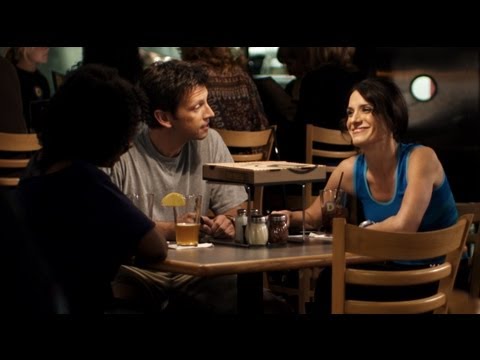 What's the movie about?
After losing his job, David's roommate pushes him to hire a life coach named Joyce (Rebecca St. James). David agrees to hire Joyce partially because he wants to find himself, but mainly because he thinks Joyce is pretty. When Joyce invites David to join a volunteer group at a retirement home, David discovers that his manipulative ex-boss, William, is part of the volunteer group (and also romantically interested in Joyce).
The retirees at the home instantly recognize the potential for drama in David, Joyce, and William's love triangle. After a wily old man goads David and William into battling for Joyce, David begrudgingly agrees to attend an open mic night that Joyce hosts for people to ponder the existence of God. It's there that a poet says something that reverberates deeply in David's wandering heart, and moves him closer to finding himself (and maybe closer to winning the battle for Joyce as well).
Who's in it?
Rebecca St. James as Joyce

Known for: Grammy Award-winning musician, author of nine books, and successful waiter-till-marriage.

Shirley Jones as Mildred

Known for: Academy Award-winning actress (Best Supporting Actress, Elmer Gantry), costar of the epicly-funny Grandma's Boy (2006), and star of The Partridge Family.

Joe Boyd as David

Known for: Ordained minister turned actor/director/producer, star and director of Hitting the Nuts (2010), costar of General Hospital.

Marty Ingels as Mack

Known for: Supporting actor in TV shows such as CSI, The Dick Van Dyke Show, Murder She Wrote, and Walker Texas Ranger.

Venida Evans as Rose

Known for: Supporting actress in The Adjustment Bureau, Transamerica, and Brown Sugar.

Joe Stevens as Bernard

Known for: Supporting actor in True Grit, Lone Star, and What's Eating Gilbert Grape

Anis Mojgani as Himself

Known for: Being a crazy-good poet who wins lots of awards. Back-to-back titles in the National Individual Poetry Slam in 2005 and 2006, appeared in Slam Planet: War of the Words and HBO's Def Poetry Jam
Is it showing in your town?
If you see a city near you on this list, you can preorder tickets for A Strange Brand of Happiness right now. If we make enough pre-orders, then Rebecca will be able to persuade more theaters in more locations to carry the movie.
Mobile, AL
Newport Beach, CA
Santa Monica, CA
Colorado Springs, CO
Bradenton, FL
Albany, GA
Atlanta, GA
Savannah, GA
Naperville, IL
Crawfordsville, IN
Elkhart, IN
Fort Wayne, IN
Indianapolis, IN
Kansas City, KS
Ashland, KY
Lexington, KY
Louisville, KY
Minneapolis, MN
Jackson, MI
Warrensburg, MO
Omaha, NE
Las Vegas, NV
Ashtabula, OH
Canton, OH
Cincinnati, OH
Cleveland, OH
Columbus, OH
Dayton, OH
Findlay, OH
St. Clairesville, OH
Steubenville, OH
Tiffin, OH
Shawnee, OK
Pittsburgh, PA
Charleston, SC
Franklin, TN
Johnson City, TN
Knoxville, TN
Murfreesboro, TN
Dallas, TX
Morgantown, WV
Why you should order a ticket right now…
Save money: Tickets are cheaper when you pre-order them through Rebecca's website.
Get free bonus gifts: Rebecca is offering Kickstarter-esqe rewards for people who pre-order more than one ticket. Buy two tickets and you get a free Fiction & Fables song download. You can see the full list of rewards on her website.
Help Rebecca: Support a fellow waiter-till-marriage! Every ticket you preorder gets Rebecca one step closer to wide distribution. The more interest we show, the easier it will be for Rebecca to persuade more theaters to pick up her movie.
Pre-order your tickets and get free bonus gifts here…
3 Responses to "Help Support Rebecca St. James' New Movie!"