Olympic Athlete Lolo Jones: Virgin and Waiting Till Marriage
May 28th, 2012 by
WTM.org Community
I've had guys tell me, they're like, 'Hey, you know if you have sex, it will help you run faster…If you marry me, then yeah.
It's easy to paint world-class athletes as heroes. They are hard-working and willful people by nature. When you add waiting till marriage on top of that, they shine even more. But Lolo Jones is different. In a field full of heroic people, she still stands out as special. If there was ever a woman that embodied all the values that waiters-till-marriage should aspire too, she is it. Lolo Jones is not just a world-class athlete; she's a world-class person.
You could strip away all her athletics, you could ignore her waiting-till-marriage decision, and she'd still be a hero; she'd still be someone to look up to. I won't bore you anymore with an introduction. Read on. Read it all. She's fantastic. I've been compiling these celebrity bios for 2 years now, and she's my favorite by a long shot.
Video: Lolo Jones Talks about Her Decision to Wait in HBO Interview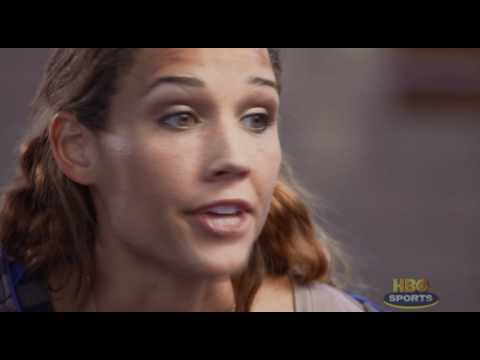 Quotes about Waiting till Marriage
It's just a gift I want to give my husband. But please understand this journey has been hard. There's virgins out there and I want to let them know that it's the hardest thing I've ever done in my life. Harder than training for the Olympics. Harder than graduating from college has been to stay a virgin before marriage. I've been tempted, I've had plenty of opportunities.
I want to wait until I'm married to have sex…I want to have that solid bond.
You stay single because you don't put out, and they call you crazy, old fashioned, or a liar. I've even been called gay.
When I was 22, 24, it was cute. 'But 24 to 29, it's not cute. You get judged a lot, a lot of guys won't return your calls after they find out.
So we'll talk usually one to three months [later], then they're like "oh shoot, she was serious". Time for me to exit.
I've seen Celebs get teased less for releasing a sex tapes.
So if they're making a sequel to 'The 30-Year-Old Virgin,' I am their candidate. I would love to. I'm a little bit awkward like Steve Carell. I could definitely play that role.
On her ideal man: Single, Christian, nonsmoker, no kids with any baby mamas, have a job.
I don't have a hard time finding dates but hard finding the right one to date.

My mom, she was with my dad for 20 years and they never got married and they're not together anymore. So I just want to have that solemn bond. It's a gift I want to give to my husband.
Mini Biography
Born Lori "Lolo" Jones August 5, 1982
Childhood
Lolo attended eight schools in eight years while her single mother, Lori, often held down two jobs to support her family of six. Lolo's father spent most of her childhood either in the Air Force or state prison.
In third grade, the Jones family settled in the basement of a Des Moines Salvation Army church. During the summer when day camps were offered at the church, Lolo would wake up early to avoid being teased by other kids if they found out she was living in the basement.
Her family was so poor that she had to shoplift frozen dinner when she was young: "I definitely would say, by sixth grade, I was a professional shoplifter." She added that her family once used food stamps to purchase staple items such as cheese and beans in supermarkets.
Mom, I can't go to a city that doesn't have a track. I'm trying to pursue my dream.
When her family was about to make another move, this time to Forest City, Iowa, Lolo told her mother "Mom, I can't go to a city that doesn't have a track. I'm trying to pursue my dream." Lolo and her family parted ways, and she lived with four different families during her enrollment at Theodore Roosevelt High School in Des Moines.
Teenage Years
In order to continue her track training, Lolo lived with several different families during High School (including her role model Kim Carson's god-parents, the family of a local attorney, and the family of a former newspaper editor), while she worked part-time at a small coffee shop (Iowa Bakery Cafe).
Lolo excelled academically in High School, keeping her grades up and playing the cello in the school orchestra. And of course, she also excelled on the track. She was named Gatorade Midwest Athlete of the Year and set a record at the Iowa state track meet in the 100-meter hurdles.
College Years
Age 18: She intended to enroll at Iowa State University through its Upward Bound/Science Bound program. Instead, she follows the lead of elite hurdler Kim Carson and attends LSU to compete on their track team.
Age 20: Runner-up in both 100-meter hurdles and 4×100-meter relay at the NCAA Outdoor Championships.
Age 21: Wins at the NCAA Championships and becomes part of the winning team at the 2003 NCAA Outdoor Championships.
Age 21 – 22: Finishes second in two events (60m hurdles and 60m dash) at the NCAA Championships. Wins the 100m hurdles title at NCAA Mideast, the SEC Championships, and the Penn Relays (she rocks pretty hard at 100m hurdles).
Wins another national title at the 2004 NCAA Outdoor. Finishes season as an 11-time All-American and a 6-time SEC champion, and ranks among the top-three women of all-time in both the 60m hurdles and 100m hurdles.
Fails to qualify for the 2004 Summer Olympics in Athens, Greece and starts to question her future. Despite her second thoughts, her heart leads her back to running.  Graduates from Louisiana State University with a degree in Economics.
Her financial situation is getting worse, forcing her to choose between focusing on track and not earning a steady paycheck, or using her economics degree to get a regular job. To save money, she leaves the air conditioner off, suffering through the hot Louisiana summer days. Works several part-time jobs. She works at Home Depot, waits tables, and works as personal trainer at a local gym. Her multiple jobs help her earn extra money and provided the flexibility to leave the country for competitions.
To save money, she leaves the air conditioner off, suffering through the hot Louisiana summer days.
After a disappointing finish at the 2004 U.S. Olympic Outdoor Trials, Jones finished second in her first professional meet in Stuttgart, Germany.
Age 23-24: Runs a personal best and wins at Heusden-Zolder in July 2006. Finishes sixth in 100m hurdles and fifth in 100m dash in the 2006 World Athletics Final. Wins the meet in Ostrava on the European circuit. Finishes the 2006 season ranked fourth in the U.S. and seventh in the world by Track & Field News.
Age 24- 25: Wins her first national championship in 2007 (60m hurdles) at the USA Indoor Championships. Wins two meets and finishes 2nd in two others in the European circuit. Wins 100m hurdles at the Drake Relays and finishes 3rd in the 100m hurdles at the 2007 USA Track and Field Championships, earning a spot on the U.S. Team at the World Championships in Osaka, Japan, where she finishes 6th. Wins meets at Rethimno and Heusden along with second-place finishes at Doha, Sheffield, and Monaco on the summer track circuit.
Age 25-26: Donates the $4,000 prize money she wins in the Olympic trials to Renee Trout, a single mother from Cedar Rapids, Iowa who was hit by the Iowa flood of 2008 while back in Des Moines.
Starts the 2008 season with hopes of making the 2008 Summer Olympics by finishing second in Glasgow, Gothenburg, and Stuttgart in the 60 m hurdles.
Picks up a win in Düsseldorf, setting a meet-record in the process. Runs a personal best time and finishes 2nd to Susanna Kallur (who broke the world record to beat her). Jones' time was the second-fastest ever by an American.
Earns the title of USA Track & Field's Athlete of the Week on February 12. Wins her second straight national championship and wins Visa Championship Series title at the 2008 USA Indoor Championships. Wins the 60m hurdles for her first world championship at the World Indoor Championships in Valencia, Spain.
Opens the 2008 outdoor season with a first place finish at the LSU Alumni Gold meet in Baton Rouge, setting a stadium record in the process.
Favored to win the 100 meter hurdles at the 2008 Beijing Olympics, but in the final she clips the 9th hurdle (of 10) and stumbles, breaking stride to drop her back to a disappointing 7th-place finish. Teammate Dawn Harper surged through to win gold.
Watch video of Lolo Jones in the 2008 Olympic Final (she's winning until the 9th hurdle)
You hit a hurdle about twice a year where it affects your race. It's just a shame that it happened on the biggest race of my life.
She pounds the ground close to tears, trying to comprehend what had happened. "You hit a hurdle about twice a year where it affects your race. It's just a shame that it happened on the biggest race of my life." Later seen crying to herself in a hallway, mouthing, "why, why, why?" The mistake has been compared numerous times to Gail Devers' famous fall in the same event at the 1992 Barcelona Olympics.
Age 27: Begins the 2009 indoor season in Europe, scoring victories in the 60m hurdles with world-leading times in Karlsruhe and England. Returns to the States and wins the national indoor title in the 60m hurdles.
Suffers a hamstring injury at her hometown meet and misses a month's worth of training, but return in time for the outdoor national championships. Clashed arms with Michelle Perry in the semi-finals and falls, missing out on the opportunity to compete at the 2009 World Championships in Berlin.
Returns to Europe to compete on the major World Athletics Tour meets, but only manages 7th and 8th in Oslo and Lausanne. Beats Priscilla Lopes-Schliep and Damu Cherry with a world-leading time while in Greece. Faces strong competition on the European circuit: She takes 3rd at the London Grand Prix and at Herculis. She runs her second fastest time of the season at the DN Galan meeting, but was just beaten to the line by Lopes-Schliep.
Her hamstring injury recurred at Weltklasse Zürich, ruling her out for the rest of the season. Having missed the major championships and suffered injuries, the 2009 season was largely disappointing for Jones, although she took some solace from having run the second Poses semi-nude for ESPN's 2009 body issue.
Age 28-29: Defends her 60m hurdles Indoor World Title in Qatar after finishing with a time of 7.72 (a new American record). Due to there being no major championships for Americans, she travels to Europe and competes in many countries, mainly Diamond League events.
After wins in Qatar, Oslo, New York, Gateshead, and Monaco, going into the last Diamond League race, Lolo is tied at the top of the standings along side Canadian Priscilla Lopes-Schliep. Lopes-Schliep wins the final race which leaves Lolo 2nd in the overall Diamond league standings.
Makes her 2011 race debut at Aviva International Match in Glasgow. Finishes the race in 4th position with after hitting the third hurdle. A close third place finish then follows in Stuggart. Injury and illness forces Jones to miss the rest of the indoor season.
Age 29-PRESENT: Lolo recently bagged the 1st Place at the US Open, Madison Square Garden, New York in January 2012.
She's back in Baton Rouge training with her long time coach, Dennis Shaver in preparation for the 2012 London Olympics.
The mindset is just making sure that I just so prepared for the Olympics, and just finishing up the hard work and getting into race mode. I feel like when you go to races you get on the line and you know that you have done everything that you can. You train as hard as you can and eaten everything that is healthy and proper and you are just ready to go.
Lolo will be competing in the 2012 London Olympics (her first event is Monday, August 6th), and all of us here at WTM.org will be rooting for her!
Interesting Facts about Lolo Jones
Whenever her father's car would break down, Lolo would run to her next destination.
Lolo was named Lori at birth, after her mother, but started going by "Lolo", she says, in order to differentiate the two when telephone callers asking for "Lori" made the matter confusing. Though according to Lolo's mother, "Lolo" is what she has called her daughter from birth.
She is also actively involved in Christian Ministry
She is multiracial of French, Native American, African American, and Norwegian descent.
References
16 Responses to "Olympic Athlete Lolo Jones: Virgin and Waiting Till Marriage"