Soccer Superstar Ricardo Kaká Leite: Virgin Until Age 23
June 6th, 2012 by
WTM.org Community
Of course, everyone has their own opinions but I think it was worth the wait.
If you live in the United States (the only country who isn't obsessed with Soccer), then you may not recognize the name Kaká. But to the rest of the world, Kaká is a household name. And it's little wonder why: Kaká is a true natural, dominating the ball from the first moment he stepped onto the field at age 7 (he made it to the finals that first season). Despite the fame and money showered upon him from an early age, Kaká married his childhood sweetheart and waited until marriage to have sex.
Video: Ricardo Kaka Talks About Waiting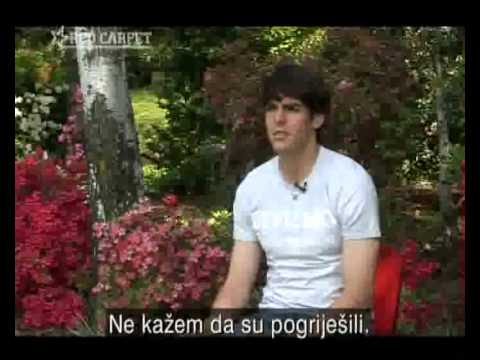 Quotes about Waiting till Marrage
I am a great example. The majority of people say that after marriage, they don't like jumping into bed with their partner because there is no desire. However, this is not true, my wife is the person I love and it was worth waiting.
A lot of people were surprised and shocked with me but I think it's the best decision. I am an evangelist and I believe in those values. I think people need to prevent themselves from making love before marriage.
Of course, everyone has their own opinions but I think it was worth the wait.
Quotes from Kaka's Wife, Caroline Celico
I found out that he was the love of my life when I got to know him on a daily basis. But I'm not gonna lie, when I saw him for the first time (I was 14, saw him at the airport and he was with his back to me.) I felt something completely different for him, and then I learned who he was. When he saw me for the first time. I asked him to sign an autograph to my friend and one to me. He wrote to my friend: "with love, from Kaka", and to me he wrote: "Kisses, with love from Kaka". He told me that he liked me ever since.
He is very disciplined, and sometimes it can be really annoying when he leaves way too early to avoid being late for something. He is way too nice, and sometimes I think he should be more polite and less friendly with people that misunderstand his affection.
What I admire most in him is gratitude to God. Kaka made me fall in love with God, and know that God made me discover the one and only true love for Kaka. We never were driven by passion or by fleeting moments, but by a deep love. Kaka is admirable; he is extremely disciplined and faithful to everything that is involved with.
Mini Biography
Born Ricardo Izecson dos Santos Leite on 22nd of April 1982 in Brazil, to Bosco Leite, a civil engineer, and Simone dos Santos, an elementary school teacher.
Age 7: Kaká's family moves to São Paulo. He hoins a local youth soccer club called "Alphaville," where he makes it all the way to the finals in a local tournament, where he was discovered by hometown soccer club São Paulo Footbal Club (São Paulo FC).
Age 8: Keeps playing for his local youth soccer club (and being watched by São Paulo FC), while also enjoying a little tennis on the side.
Age 12: Becomes engrossed in religion. Hears his parents speaking about the word of God as written in the bible.
Age 15: Moves on to São Paulo FC and signs his first professional contract with the club. He then leads São Paulo youth squad to Juvenile Cup glory.
Age 16-17: Meets his to-be wife Caroline in high school. They become close friends and start dating right away.
Age 18: Suffers a career-threatening and possibly paralysis-inducing spinal fracture as a result of a swimming pool accident, but remarkably makes a full recovery. Attributes his recovery to God and has since tithed his income to his church.
Age 19: Plays one of his best matches as a Real Madrid player during a 3-0 victory over Ajax Soccer Club in the Champions League. Scores one goal, provides one assist, and participates in one of the best team counter-attacks of the day. Later chosen as the best player of that Champions League Matchday.
Age 20: Makes his senior side debut and scores 12 goals in 27 games, in addition to leading São Paulo to its first and only championship.
Age 21: Moves to Italy an Joins the Milan soccer club for €8.5 million (later described as "peanuts" by the club owner). Within a month, he is placed in the starting lineup, and his Series A debut was in a 2–0 win over Ancona. Scores 10 goals in 30 appearances that season, wins the Scudetto Cup and the UEFA Super Cup.
Joins Brazilian national team. Becomes team captain for the 2003 Gold Cup tournament. Scores three goals during the tournament and is included in Brazil's squad for 2005 FIFA Confederations Cup in Germany. Appears in all five matches and scored one goal in a 4–1 win over Argentina in the final.
Age 22: Becomes the youngest ambassador of the UN World Food Programme.
Watch a World Food Program commercial with Ricardo Kaka
Age 22-23: Marries Caroline Celico on 23 December 2005 at a Rebirth in Christ church in São Paulo in a wedding attended by fellow players from his national team, as well as other well-known international players.
Becomes part of the five-man midfield in the 2004–05 season. Scores seven goals in 36 domestic appearances as Milan finished runner-up in the Scudetto race. Despite Milan losing the 2004–05 Champions League final to Liverpool on penalties, Kaká was still voted the best midfielder of the tournament. Scores his first hat-tricks (three goals in a single game) in domestic competition.
Age 24: Starts in his first FIFA World Cup finals in 2006 and scores his first and only goal of the tournament in Brazil's 1–0 victory over Croatia in Brazil's opener, for which he was named Man of the Match. Officially sworn in as an Italian citizen.
Age 25: Becomes the focal point of Milan's offense as he alternates between the midfield and striker positions. Finishes as the top scorer in the 2006–07 Champions League campaign with ten goals.
Age 26:  Wife gives birth to first child, Luca Leite. Plays his 200th career match.  Named the FIFA Pro World Player of the Year. Adds the Champions League title to his trophy case for the first time when Milan defeats Liverpool. Voted Vodafone Player of the Season in a poll of over 100,000 UEFA.com visitors.
Becomes the eighth Milan player to win the Ballon d'Or after he finished with a decisive 444 votes, long ahead of runner-up Cristiano Ronaldo. Signs a contract extension through 2013 with Milan.
Age 27: Time magazine names Kaká as one of the world's 100 most influential people, partially for his performance on the field, and partially for his humanitarian work with the World Food Programme). Casts his footprints into the Estádio do Maracanã's sidewalk of fame, in a section dedicated to the memory of the country's top players.
Plays in the 2009 FIFA Confederations Cup, marking his first international tournament since the 2006 World Cup. Receives the Golden Ball as the player of the tournament at the Confederations Cup and is also named the Man of the Match in the final.
Newly-elected Real Madrid president Florentino Pérez offers Milan €68.5 million to trade Kaka, and they accept. Kaká makes his unofficial debut with Real Madrid in a 5–1 victory against Toronto. Scores his first goal for Real Madrid during a pre-season match in a 5–0 victory against Borussia Dortmund.
Kaká would later make his league debut on 29 August 2009 in a 3–2 win against Deportivo La Coruña. He scores his first goal, a penalty kick, in a 2–0 victory against Villarreal.
Age 28: Real Madrid announces that Kaká had undergone a successful surgery on a long-standing left knee injury and would face up to four months on the sidelines. Kaká returns to training after a long lay-off and manager Jose Mourinho said that having Kaká back was like a new signing.
Kaká suffers from Iliotibial band syndrome which kept him sidelined for a few weeks. After returning from injury, he appears in a convincing win over Valencia, scoring two goals.
EA Sports announces that Kaká has been chosen for the cover of FIFA 11.
Age 29: Caroline gives birth to their second child Isabella. After more than one year absence from the national team, Kaká is recalled on 27 October 2011 for the friendly matches against Gabon and Egypt. He later had to be removed from the squad due to an injury, and thus didn't play either of the matches. Has since recovered and continues to be one of the most valuable players in the game.
How Kaka Met His Wife Caroline
They first met in 2002 when Caroline was just 15 and studying and and Kaká is still playing for the São Paulo Football Club. Carol's mother met Kaka's father and they were introduced to each other by their parents in a party. Kaka was immediately charmed and fascinated by her. Soon, they exchanged emails and phone calls and started dating after they become friends. They soon realized they were in love.
While in Venice, Kaka told Carol that he had to sign something, and he asked her to go with him. One night, he took her for dinner before a meeting, and on the top of a building with a view to the city, he asked her to marry him. Carol said "yes" with a big smile on her face and with tears in her eyes.
They got married on December 23, 2005 at Rebirth in Christ Church in front of 600 guests.
Interesting Facts about Kaká
His nickname "Kaká" is a commonly used shortened form of "Ricardo" in Portuguese, however, Kaká got his nickname from his younger brother, Rodrigo, who could not pronounce the word "Ricardo" when they were young. Rodrigo called his older brother "Caca" which later changed its name to Kaká.
Kaka's wife, Caroline Celico, dresses intentionally conservative to prevent Paparrazi from sexualizing her. The result is that she's known more for her beauty than "hottness."
Kaka is the first sportsperson to amass 10 million followers in twitter.
He is a follower of the evangelical Rebirth in Christ Church and devout evangelical Christian.
Kaká has a musical side to himself as he performed a song with his wife, Caroline, on her debut album. The song, entitled Presente de Deus, was written by Kaká himself for his wife and was resonated in the church during their wedding in 2005.
In his first season Milan lifted the Serie A title, and it was at that time that Kaka first invested in his 'I belong to Jesus' vest, and had the words 'God is faithful' stitched onto the tongues of his boots.
References
76 Responses to "Soccer Superstar Ricardo Kaká Leite: Virgin Until Age 23"